competition for the new construction of a youth centre with alfredo peñafiel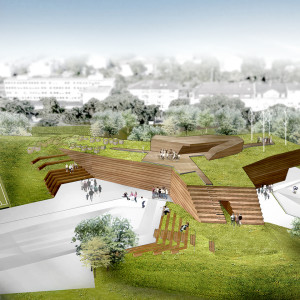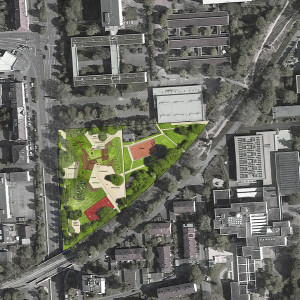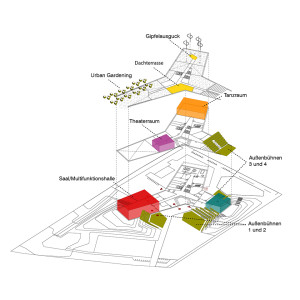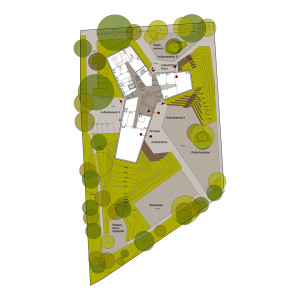 The concept for the building was derived from the users' desire to be able to access the complex from different directions: three differing outdoor areas are created that allow entries from south, (north-)west and north. The essential characteristic of the design, however, is the creation of a topography that makes it possible to walk onto the building's roof from south and east. This topography accentuates the outer areas and furnishes them with diverse options of use. A hybrid is generated of building and topography: mount play.
Outdoor area I with access from south provides a plaza and rollerblading field with two amphitheatre-like stages which can also be watched from the roof terrace: One can imagine many different kinds of performances which can take place here all year round. Outdoor area II is forecourt and access from north-west with parking and delivery. Outdoor area III allows entry from the neighbouring campus and features a terrace for the disco and a skating landscape. From here one can reach the first floor climbing up the topography. Stairs for sitting connect here to the roof level with roof terrace, offering views to the soccer field and the near-by Odenwald. The roof terrace can also be reached from the inside of the building via stairs and elevator. On the north-western branch of the building, one finds a look-out on the 'mountaintop'. The urban gardening is placed on the southern branch which contains the assembly hall. From here the topography drops towards the south, incorporating the playground with water and sand and the basket ball field.
All three entries lead to the main foyer which appears wider due to the adjacent open café and forms the central space of the building.